Mon, 04/02/2012 - 16:22
Looking for candidates' endorsements
Hats off to our data-loving journalist peers at the online news site OWNI. They have created an interactive Google map that shows where each of France's ten presidential candidates secured their endorsement signatures.
[French law says that to become a presidential contender an individual must receive the symbolic backing of a minimum 500 elected officials, which in practice is proven by a list of the elected officials' signatures.]
Attention! The map comes with some caveats: it does not display every single signature collected, only 500 signatures for each candidate chosen at random by the country's Constitutional Council and made public. So the map only shows about half of left-winger Jean-Luc Mélenchon's roughly 1,000 endorsements and just 1 in 10 signatures collected by Socialist candidate François Hollande.
But for candidates that came in just under the wire, such as Trotskyites Nathalie Arthaud (521 signatures) and Phillip Poutou (572), and right-wing leader Marine Le Pen (500), the map is revealing of where each hopeful draws support.
Apparently Le Pen's biggest fans (grey pins below) are concentrated in the country's northeast corner. On the contrary, France's Atlantic seaboard is unwelcome territory for the National Front's leading lady: she managed just one signature in Brittany (thanks Mr. Lescoat of Tréogan!) and big goose egg zero endorsements in the south-western Basque country.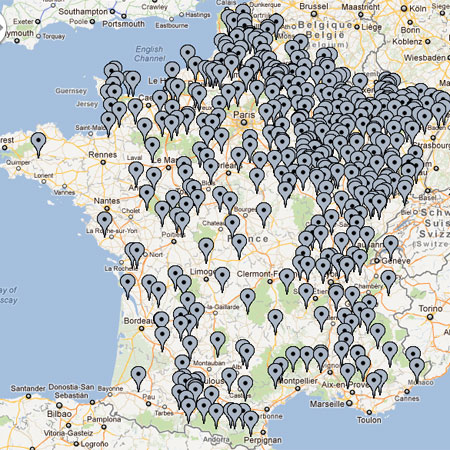 The map also shows there is no love for far-leftists (red and pink pins below) along the French Riviera (shocker!) and only sparse support for anti-capitalism in the Republic's central regions.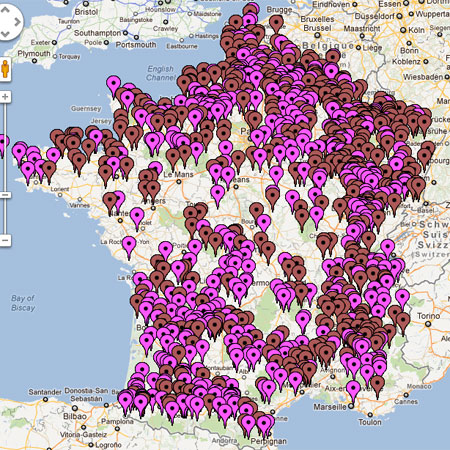 There are also some fun observations to be made, again with a grain of salt, given the incomplete nature of the map. While President Nicolas Sarkozy pales along France's sunny border with Spain, Hollande (pink pins below) is cold along the northern frontier with Belgium. However, Hollande seems to be getting support in eastern Belgium, in the tiny town of Aisne (France counts a department with the same name, woops!).

And inexplicably, Sarkozy, Hollande, Mélenchon and Green candidate Eva Joly managed to find signatures in Northern Zambia, a few kilometers west of the village of Ngolo.

Team Paté's take: please, send us some international election observers, quick!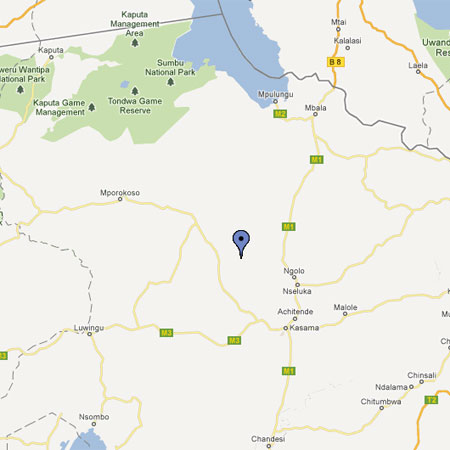 Comments or opinions expressed on this blog are those of the individual contributors only, and do not necessarily represent the views of FRANCE 24. The content on this blog is provided on an "as-is" basis. FRANCE 24 is not liable for any damages whatsoever arising out of the content or use of this blog.