Fri, 02/24/2012 - 14:27
Welcome to the 'Ministry of Suburbs'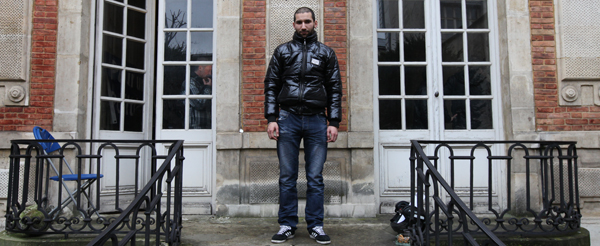 "The politicians wouldn't come to the suburbs, so we brought the suburbs to the politicians." Nabil, 26, is from the notorious Clichy-sous-Bois council estate outside Paris, best known for the 2005 riots that made the French capital look like South Side Chicago. Leaving behind his cramped tower block flat, Nabil is squatting in an archaic mansion in the chic Marais district of central Paris.
Built in 1625, the Hôtel de Chalon-Luxembourg is a dilapidated mousetrap today. Scattered across the airy sitting room on fold-out chairs, Nabil and his friends are the perfect hosts to their new abode, which they've christened 'The Ministry of Suburbs'.
They've managed to attract quite a stream of visitors, including none other than presidential frontrunner François Hollande, who popped in "for a chat" on Wednesday. Accompanied by a harem of reporters, naturally.
"We had to come all the way to the centre of town to get his attention," Nabil sighs. "But we did it in the end". Gregory, another 'squatter', shakes his head disapprovingly. "Hollande only came because he wants to get elected. As soon as he becomes president – as soon as any of them become president – nothing will change."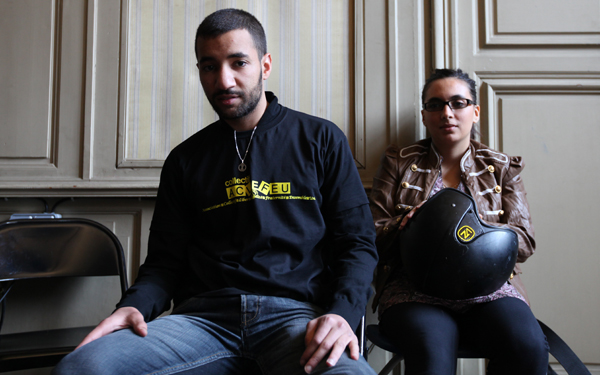 Clichy-sous-Bois hit the headlines in 2005 after two teenagers were electrocuted to death trying to flee the police. Three weeks of riots followed, and finally, billions of euros. But the squatters say that seven years on, the money has gone nowhere. "We're living in the Middle Ages!" Mohamed Tiba, a housing rights activist, pipes up. "People use a pulley system to get their shopping up to their flats because the lifts don't work anymore."
Mohamed works for 'AClefeu', an association that was set up in the aftermath of the 2005 riots. It was in the same year that then interior minister, a certain Nicolas Sarkozy, threatened to "hose down" the "rabble" from the suburbs.
Speaking of which…
"Sarkozy doesn't give a shit about us," Nabil shrugs. Unlike his rival François Hollande, the current president has not managed to pay a visit to the squat. Gregory finds the idea purely preposterous, rolling his eyes in amusement. "I'd like to see the day when Sarkozy visits the suburbs," he laughs. "He can't even make it to the centre of Paris when we come to him!"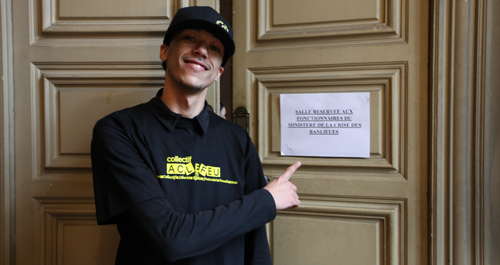 Abdel, 23, shows off a notice reading "Area restricted to suburbs ministers only".
All photos: Sophie Pilgrim/ FRANCE 24.
Tags for all blogs :
Comments or opinions expressed on this blog are those of the individual contributors only, and do not necessarily represent the views of FRANCE 24. The content on this blog is provided on an "as-is" basis. FRANCE 24 is not liable for any damages whatsoever arising out of the content or use of this blog.