Thu, 03/29/2012 - 12:46
Mrs. Chirac goes to dance with Sarkozy
One of the highlights of incumbent president Nicolas Sarkozy's mega campaign rally in Villepinte on March 11 was a surprise appearance by one of France's most famous first ladies – Bernadette Chirac. Minutes before Sarkozy delivered his keynote speech that day, Mrs. Chirac's petite frame appeared on the massive stage that could have doubled as an airport runway. In full grandma regalia –big hair, smoky glasses, and all– she announced she was endorsing Sarkozy in the election, sending the crowd into near hysterics.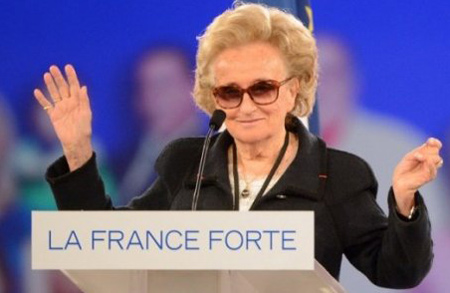 Since then, Bernadette Chirac has hit the campaign trail on behalf of Sarkozy with all the fervour that her 79-year-old legs will allow. Most recently she was in western city of Nantes with the incumbent. "I will speak [in support of Sarkozy], whenever he calls on me," she told reporters. Wherever she appears Mrs. Chirac has become a magnet for supporters and the press.

She even caused a stir this week by declaring that Socialist candidate François Hollande was "polite" but lacked the physical "build" to be France's head of state. She promptly backpedalled on the pronouncement, conceding that she used words that were "a little bit too strong," to describe Sarkozy's main rival.

Minor controversy aside, Bernadette Chirac remains a campaign showstopper because her presence inevitably raises questions about her husband Jacques Chirac, France's former (and still very popular) president. It is widely known in France that Mr. Chirac and President Sarkozy, while belonging to the same ruling UMP party, have long maintained a less-than-agreeable relationship.

In 2007, when Sarkozy was battling to become their party's presidential nominee, then-president Chirac was lobbying against him on the sidelines. The relationship was soured further when Mr. Chirac described his successor as "nervous, brash, full of ambition, and full of himself" in his memoirs, and then, perhaps jokingly, said in June 2011 that he would vote for François Hollande in the presidential poll.

Mrs. Chirac is a politician in her own right. She has defended her councilwoman's seat in the central region of Correze since 1979, and has never shied away from public view. But it's clear that for this upcoming election France's grandma has gone rogue.

When she officially joined Sarkozy's 2012 re-election drive in Villepinte she tried to convince inquisitive journalists that her conspicuously absent husband had missed the rally because he was tired. "Of course he backs Nicolas Sarkozy," Mrs. Chirac told reporters at the time.

But a real endorsement from Mr. Chirac has failed to materialize and the press has remained sceptical. Pressed on March 23 about which horse Mr. Chirac was betting on, Mrs. Chirac shot back "I can't answer that question on his behalf."

A "thumbs up" from Mrs. Chirac is, certainly, a boon for Sarkozy. Bernadette Chirac is still popular among ordinary French voters. But you can't help wondering if the incumbent is really satisfied. It's like he's getting served a well-seasoned burger when he was hungry for chateaubriand.

Or as if he had switched on the bat signal in Gotham city, and instead of getting the caped crusader thundering in on the bat-mobile, Robin the boy wonder shows up on a moped.

Or instead of getting to dance with the really hot bridesmaid at a wedding, he finds himself cutting a rug with, well, his grandma.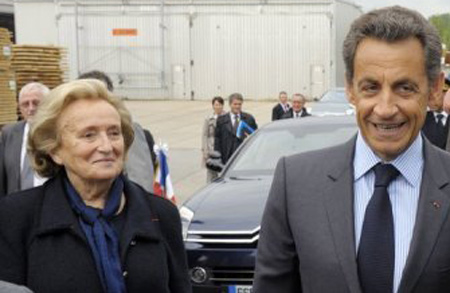 Comments or opinions expressed on this blog are those of the individual contributors only, and do not necessarily represent the views of FRANCE 24. The content on this blog is provided on an "as-is" basis. FRANCE 24 is not liable for any damages whatsoever arising out of the content or use of this blog.