Fri, 03/16/2012 - 13:34
Shock video comes back to haunt candidates
It's bound to be one of the unforgettable phrases of the 2012 French presidential campaign: "An agreement with Hollande, it's the same thing as nothing at all, he never keeps his word". Just six weeks before the first round of the elections, the stinging slight delivered by left-wing presidential candidate Jean-Luc Mélenchon has been published on dozens of newspapers and websites, and spread like the flu on the French blogosphere.
The explosion of the already infamous words is spectacular given that Socialist Party candidate François Hollande and Mélenchon have thus far carefully avoided direct confrontation on the campaign trail - and because they were uttered more than two years ago.
Still bitter over his 2008 breakup with the Socialist Party, Mélenchon told then FRANCE 24 journalist Thibault Lieurade in September 2009 that he and Hollande had worked out an "arrangement" over the results of an internal Socialist Party election in 1997: "He gets 85%, I get 15%."
In the video Mélenchon goes on to claim Hollande went back on the already dubious agreement, bloating his score past 85%. "He's someone who likes to play around with people. It amused him to see me humiliated, mad with rage… I told him I would never forgive him, and I haven't," Mélenchon spat.
Allegations of internal vote rigging and backstabbing have nagged the Socialist camp for years, so Mélenchon's revelation to FRANCE 24 was barely noticed at the time. It was then buried in FRANCE 24.com's own archives until an update on March 5 brought hundreds of old articles back online.
It was the website 24heuresactu that dug up the lost clip this week, dusted it off and realized its current value on the election market. While Hollande is still the frontrunner in next month's election, Mélenchon has emerged as his main challenger on the left.
The video quickly catapulted from 24heuresactu onto the right-leaning Atlantico news site, the far-right blog Fdesouche and even the website of French incumbent Nicolas Sarkozy's ruling UMP party.
Shifting election tides

With all the unwanted attention, Mélenchon and Hollande have been forced to react. Questioned by journalists, Mélenchon did not backtrack on his 2009 statement, but slyly veered away from the subject. "This is a reminder of Judgment Day. That is to say, everything I've committed all my life. With the Internet we can now dig up anything we want."
Hollande's camp has categorically denied the alleged 85/15 arrangement. We'll never know what really went down between Hollande and Mélenchon in 1997, but the incident has made waves at a critical time in the 2012 presidential regatta.
Hollande has waged a careful and steady campaign, hoping to mostly ride on the wave of anti-Sarkoism into the Elysee Presidential Palace. Perhaps hoping to find a docking space in Hollande's future government, Mélenchon has chosen to mostly ignore Hollande and harpoon the incumbent Sarkozy, and above all, far-right candidate Marine Le Pen.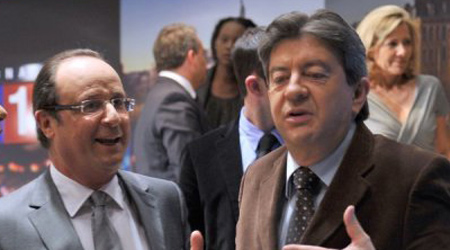 Melenchon's strategy seems to be paying off. Opinion polls on voter intentions for the first round of the presidential ballot show that he has climbed from about 3.5% support one year ago, to as much as 11% today. In the past three months his popularity among left-wing voters has skyrocketed from 30% to 60%.
On the other hand, Hollande's campaign appears to be running out of steam. His once long lead has been steadily scraped down. According to one opinion poll this week, he has even dropped behind Sarkozy in the race. Mélenchon's popularity is now a real threat to Hollande's chances of winning.
Perhaps that is why Hollande has shifted gears, recently urging left-wing voters to cast the "useful vote", a code phrase that means, "don't vote with your heart for a candidate who is staunchly on the left, or staunchly anti-nuclear. Vote for the only guy who has a chance to stop another five years of Sarkozy."
How will Mélenchon react to suggestions that voting for him is useless? Both candidates still seem intent on respecting their entente, but as the shock video made so clear, some things you just can't take back.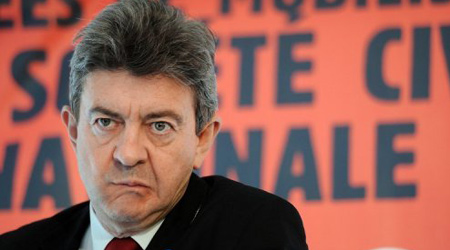 Comments or opinions expressed on this blog are those of the individual contributors only, and do not necessarily represent the views of FRANCE 24. The content on this blog is provided on an "as-is" basis. FRANCE 24 is not liable for any damages whatsoever arising out of the content or use of this blog.