Thu, 03/01/2012 - 14:06
François Hollande seen from London: A charismatic bank-bashing rockstar

François Hollande spent Wednesday in London, eating Yorkshire puddings with his Labour counterpart and posing for photos under Big Ben. How did the British press react to the French presidential frontrunner's cross-Channel sojourn?
Here in France, François Hollande is thought of as one of the most lacklustre politicians to grace the habitually hot-headed world of French politics. But across the Channel, he has managed to excite, charm and alarm the Brits, all in one afternoon.
A campaign stop in London was an opportunity the Socialist candidate couldn't afford to miss – there are some 400,000 French residents dwelling in the UK, and they traditionally lean to the right when choosing their president. After arriving at St Pancras station, Hollande headed out for an English roast with British opposition leader Ed Miliband before his meet-and-greet with French expats at King's College London.
Not surprisingly, the leftwing British press delighted in his visit, while right-wing publications were quick to declare him unwelcome in Europe's finance capital.
The prize for toadiest goes to left-wing daily The Independent (below), which headlined "The day Hollande won over England" and signed off with "Who knows? He might even win" [the presidential election].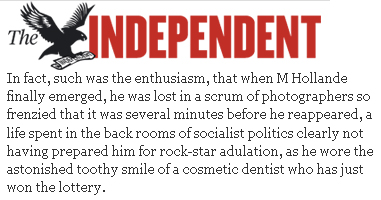 The Guardian was not far behind in with "François Hollande: a welcome visitor". The left-wing daily claimed that Hollande could teach Miliband a thing or two about public speaking and - who'd have thought it - charisma. Oh la la! Hollande should have a copy of that article framed to show his French colleagues.

On the right of the spectrum, the tabloid-esque Daily Mail (below) focused on Hollande's seemingly outrageous plan to tax millionaires 75% of their salary, at the same time portraying Miliband's shadow cabinet office minister as Hollande's biggest fan. Its readers must have been quaking in their boots.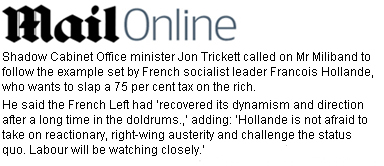 And finally The Telegraph – known in Britain as the 'Torygraph', for its cosy relationship with the Conservative party – picked out a quote from Hollande's campaign manager, who dared to sully the name of conservative Britain's darling heroine, Margaret Thatcher. No better way to guarantee a cross-Channel army of Hollande-haters.

Tags for all blogs :
Comments or opinions expressed on this blog are those of the individual contributors only, and do not necessarily represent the views of FRANCE 24. The content on this blog is provided on an "as-is" basis. FRANCE 24 is not liable for any damages whatsoever arising out of the content or use of this blog.