Mon, 01/30/2012 - 17:00
'Merkozy' for president – this time it's serious
French voters were left nonplussed this weekend after Angela Merkel's party pledged her "active involvement" in Nicolas Sarkozy's re-election campaign. Could "Merkozy" be running for president?

"Merkozy" as depicted by German magazine Bild last year.
"Chancellor Angela Merkel will actively support Nicolas Sarkozy with joint appearances in the election campaign in the spring," her conservative CDU party trumpeted Saturday. On the very same day, Merkel's right-hand man, Hermann Groehe, flew into Paris to join Sarkozy's UMP party for a gathering in the capital. Speaking at the conference, the CDU secretary general declared Sarkozy "the right person for the Elysée Palace in the future". He also slated Sarkozy's main challenger, Socialist candidate François Hollande (who is leading in the polls, coincidentally), as "a threat to the eurozone (…) whose vague propositions carry no solutions to the urgent problems of our times". He even described the Socialist Party's ideas as "dusty". Don't mince your words Hermann!
The premature endorsement went down like a sack of euros in France, where Sarkozy hasn't even declared his candidacy for the presidential poll yet (unlike his 14 opponents). It had been half-expected that he might finally utter the words during his televised interview on Sunday, but the Germans managed to beat him to it with their Merkel revelation. "I'm delighted to get my news on France from Germany!" griped one French web-user. The #Merkozy hashtag, coined during the Merkel-led, Sarkozy-in-tow eurozone crisis talks, soon resurfaced on Twitter. "Merkozy for president?!" web-users wailed. Le Monde soberly announced that "Merkel is voting Sarkozy."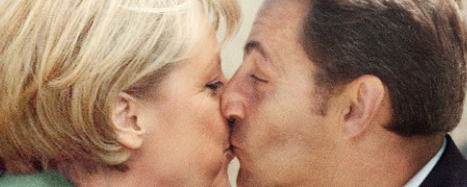 BFF: Benneton depicts Merkel and Sarkozy kissing in a 2011 advertising campaign.
It's not that Merkel's support for Sarkozy comes as a surprise – "Merkozy" didn't come from nowhere. What scares the French is the "active involvement" part. While they may lend their support to a foreign candidate, German chancellors do not usually join the campaign team. Merkel's plans to participate in Sarkozy's springtime rallies and attend his first campaign meeting go past the point of bizarre, even among the chummiest of EU members.
Centre-right candidate Dominique de Villepin told French TV channel France 5 on Sunday "I don't like the idea of a France aligned with Germany, in the same way that I don't like the idea of a France aligned with the USA".
Socialist Party campaign spokesman Manuel Valls went one further, describing Merkel's involvement as a "bad idea". "The sovereignty of each [European country] must be respected," he said in an interview with Radio Classique.
As for the UMP, they played down the news, saying Sunday that Merkel "might" come to just one meeting before the first round. Watch this space...
Tags for all blogs :
Comments or opinions expressed on this blog are those of the individual contributors only, and do not necessarily represent the views of FRANCE 24. The content on this blog is provided on an "as-is" basis. FRANCE 24 is not liable for any damages whatsoever arising out of the content or use of this blog.