Tue, 01/24/2012 - 11:08
Centrist candidate Morin time-travels straight out of the race
Things didn't look good for presidential hopeful Hervé Morin before this week. He was facing abysmally below-one-percent support in opinion polls, dissention among members of his own New Centre party who say he should quit the race to back President Sarkozy, and a Mount Everest of endorsement signatures to collect to make his candidacy official.
But then things got worse. We already highlighted one campaign flub on this blog, but Morin's oops! moment is in a league of its own, really, in a time-warp of its own.


On Sunday he told supporters in the southern city of Nice that he witnessed D-day.
Addressing senior citizens in the crowd Morin said, "You, some among you, with grey hair, witnessed the storming of the Provence beach. I saw the landing of allied troops in Normandy. We have faced challenges that were much more difficult than the ones we face today."


Really? Morin, was born in 1961. Allied troops landed in Normandy in 1944.
Presidential Paté was not planning on endorsing any candidate in France's election, but this is a game changer. We're officially backing the guy who can time-travel. How can any other candidate top that?
Hervé is our man.
He was also the talk of the micro-blogging site Twitter on Tuesday morning, and inspired the hash tag #MorinMcFly. For the pop-culturally impaired, it's in reference to the 1985 film Back to the Future, where the time travelling protagonist's father George McFly gets bullied by the detestable Biff with the mocking "Hello, anybody home, think Mc Fly!"

Here is a sampling of some of the cruellest tweets (translated from French) shot at Morin:
@pprevert:
Stop mocking him: he's telling the truth, I just found this archive photo. #MorinMcFly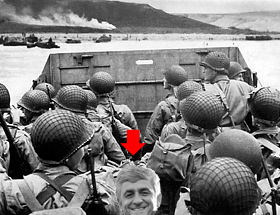 @Sa_Majeste:
After all he's done for us… The war, the vaccine against rabies and discovering fire, 0% [support] is scandalous! #MorinMcFly

@OhMaxGod:
Every evening Morin relaxes over a glass of wine with his old buddy Jesus! #MorinMcfly

@greg_cala:
#MorinMcFly - Schindler's list, he wrote it.
Actually, this probably means the end of the road for Morin's campaign.

Unless he really can travel back in time and re-do his speech in Nice. And if he is planning on getting back in the Dolorean, we have one request: please bring us back some of those cakes Marie Antoinette has been raving about.
Tags for all blogs :
Comments or opinions expressed on this blog are those of the individual contributors only, and do not necessarily represent the views of FRANCE 24. The content on this blog is provided on an "as-is" basis. FRANCE 24 is not liable for any damages whatsoever arising out of the content or use of this blog.