Thu, 01/05/2012 - 16:45
Presidential laughing stock: Five years of Sarkozy gaffes
Sarkozy's public appearances are rarely smooth-running. When he's not fidgeting or rolling his eyes, he's standing on his tiptoes in an attempt to look taller. His gaffes, outbursts and unadorned insults have left us equally shocked and delighted during his time in office. With any luck, he will stay true to form right up to the presidential election in May.
The extent of Sarkozy's perilous public presence was discovered just a month into his term when he turned up to a press conference in Russia seemingly inebriated (see video below).
Sarkozy went on to delight the French press early in 2008 when he leered over a fancy pen during a signing ceremony with the Romanian premier, before finally walking away with it (video below). It was this crucial act that cemented his stance as "bling bling president".
The real show-stopper came in 2008 and remains one of Sarkozy's most infamous ejections. Surrounded by a gaggle of dictaphones, cameras and microphones, he spat "bugger off you sad prick" at a farmer who dared heckle him (below).
Two years into his term, Sarkozy shifted his focus towards his fellow premiers. Barack Obama was described as "not always up to standard on decision-making and efficiency," Germany's Angela Merkel "with no choice but to give in to my line," and Spain's José Rodriguez Zapatero - simply "not very clever". Only Britain's Gordon Brown managed to receive a compliment, when he was told by Sarkozy: "You are Scottish, we have nothing in common and you are an economist. But somehow, Gordon, I love you". He did add that his feelings were "not sexual".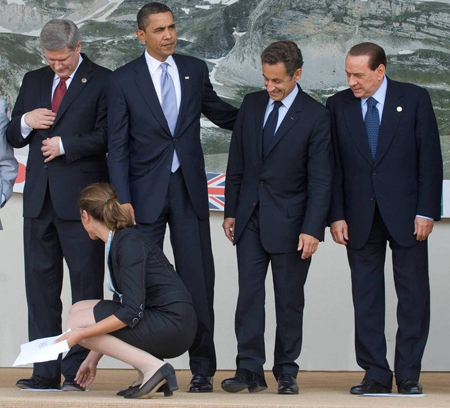 Really? It's not as though anybody suspected him of homosexual tendencies. Known for his roving eye, the president's most embarrassing ogle came in July 2009, when he found himself at the lowly levels of Europe's most vulgar premier, Silvio Berlusconi (above).
In 2009 the president demonstrated his ability to rewrite history when he fabricated a story about rushing the Berlin wall with a pickaxe the night it was brought down, Facebook photo and all (see below). It soon emerged however, that he arrived on the scene over a week later. Presumably looking very foolish indeed, pickaxe in hand…

In 2010 Sarkozy returned to scolding members of the public when he surreptitiously advised a crowd-member at a meet-and-greet in the south-east: "Don't be a wise guy", pointing his finger at him between two handshakes. The foe in question had mocked the all-seeing president by wiping his hand on his jacket after his own handshake.
In November of the same year the president called a group of journalists paedophiles after one of them questioned him about the 'Karachigate' kickback scandal. Suggesting that the reporter in question could be a paedophile just as much as he could be involved in the scandal, he then waved off the conference by saying "Goodbye paedophile friends".

In January 2011 he was almost booed out of the eastern region of Alsace after he mistakenly "mentioned" to a rally of farmers (again, farmers), that he was in Germany. The insult was an unthinkably (in)sensitive one: Alsace is a region which was fought over by Germany and France for centuries and only allowed to settle in the latter after its liberation from German forces in 1944.
Germany clearly one of his favourite subjects, Sarkozy upset Chancellor Merkel in October when he voiced a husbandly concern that while "Merkel claims to be on a diet, she helps herself to a second helping of cheese!"

The same week he was overheard griping about Israeli Prime Minister Benjamin Netanyahu. "I cannot stand him, he's a liar," he told Barack Obama, who then managed to fall victim to the Sarkozy gaffe machine himself by going one further – "I have to deal with him everyday…".
With little or nothing more to lose, Sarkozy extended his tirade in December to include Britain's David Cameron. Referring to a European summit on the flailing euro, Sarkozy said that the prime minister "behaved like an obstinate child".
Tags for all blogs :
Comments or opinions expressed on this blog are those of the individual contributors only, and do not necessarily represent the views of FRANCE 24. The content on this blog is provided on an "as-is" basis. FRANCE 24 is not liable for any damages whatsoever arising out of the content or use of this blog.