Sun, 12/18/2011 - 15:19
French Presidential Quiz
Explaining France's presidential election to a non-French audience is no easy feat.

At the most general level the poll is no more complicated than your average, big city marathon: lots of hopefuls line up at the start, not everyone is going to finish the race on their feet, and you know that, despite beaucoup leg and fist pumping, either a Kenyan or an Ethiopian is going to win.

So, yes, either Socialist Party candidate François Hollande will beat President Nicolas Sarkozy, or the incumbent will enjoy another five years at the top of the podium. The election can be boiled down to that statement. But the devil, as they say, is in the details. And details abound, especially because the race counts at least a dozen runners whose performance will critically affect the final outcome.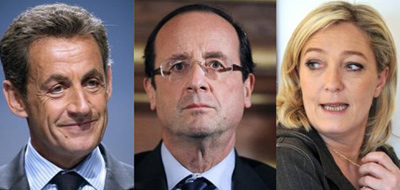 If you are reading this blog, we assume you have at least a vague interest in France. You may even consider yourself somewhat of an expert on France compared to other English speakers.

To test your knowledge of the candidates in France's big dash to the Elysée Presidential Palace, we are offering you a warm-up quiz. Answers follow the questions at the bottom of the page. Bon chance!

1) Which candidate's mother posed naked in Playboy magazine?
2) Which candidate counts an ex-spouse who ran in the 2007 elections?
3) Which candidate is a former beauty queen?
4) Which candidate is a member of the Communist Party?
5) Who is President Sarkozy's vice-president?
6) Which candidate was born in Morocco?
7) Which candidate loves racehorses?
Answers:

1) National Front party candidate Marine Le Pen's mother, Pierrette Lalenne posed naked in Playboy magazine in 1987 after a dramatic breakup with her husband, the emblematic far-right leader Jean-Marie Le Pen.

2) Semi-trick question: Socialist Party candidate François Hollande was the partner of the party's 2007 presidential hopeful, Segolene Royal. Hollande and Royal were together for 30 years and have four children together, but were never married.

3) At age 18 Green candidate Eva Joly came in third in the Miss Norway beauty pageant. Joly was born in Oslo, Norway, and later obtained French citizenship.
4) None. Jean-Luc Mélenchon is being endorsed by the Communist Party. He left the Socialist Party in 2008 to create his own Left Party, which is allied with the communists for the election.

5) Trick question: There is no vice presidential office in France's executive branch. If the president dies, the head of the Senate takes over his functions until new elections are held.



6) Two candidates were born in Morocco: former French prime minister and Nicolas Sarkozy arch-enemy Dominique de Villepin, and leftist candidate Jean-Luc Mélenchon.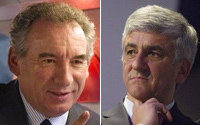 7) MoDem candidate François Bayrou and New Centre party candidate Hervé Morin hold a deep grudge over the breakup of the once important UDF party, but they both share a passion for raising horses. Furthermore, according to news reports, they have both pocketed thousands of euros in the past by selling and racing their cherished animals.
All photos ©AFP
Tags for all blogs :
Comments or opinions expressed on this blog are those of the individual contributors only, and do not necessarily represent the views of FRANCE 24. The content on this blog is provided on an "as-is" basis. FRANCE 24 is not liable for any damages whatsoever arising out of the content or use of this blog.